Contract Closure within Minutes as Against Several Days
"Before emSigner, a contract approval process lasted for a minimum of 15 to 20 days. Now, it a matter of minutes."
– CTO, Reputed IT Conglomerate
Why emSigner?
Advanced Search
Using advanced OCR capabilities, emSigner allows you to run deep searches not only on document titles and meta data, but also on content of the documents.
Collaborative Editing
emSigner allows you to create, edit and review IT documents collaboratively before sharing them for signing.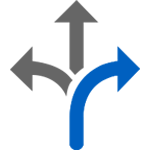 Flexible Signing Options
emSigner supports multi-signature functionality, using which multiple signatories can electronically sign documents in series, parallel or bulk.
Complete Visibility
emSigner provides comprehensive audit trail of every document with time-stamping, track changes and version controls.
Use Cases
Contract Signing
emSigner can quickly digitize the complete contract signing workflow and allow you to quickly sign the contracts using legally valid electronic or digital signatures.
Form I-9 Signing
Using emSigner, you can seamlessly provide provisions to new hires to electronically sign all the documents using US eSign Act complaint e-signatures.
e-Invoicing
emSigner allows you to digitally sign invoices in serial, parallel or bulk from anywhere, through any device instantly, thus enabling complete digital transformation.
Vendor Management
emSigner allows you to automate and streamline previously paper-intensive processes including storage, management and signing of vendor agreements, contracts, tax compliance documents, invoices, purchase orders, warranty forms, etc.
The Real-life Examples
Facilitating Form I-9 Signing
A leading IT company operating in the US uses emSigner to take the complexity out of managing and signing Employment Eligibility Verification Forms, also known as I-9 forms.
Contract Signing and Approval Made Easy
emSigner helped a reputed IT company to seamlessly digitize contract signing & approval and efficiently handle over 6000 contracts every year.