Onboard Customers Faster and Cheaper Using emSigner
"Before implementing emSigner, our customer onboarding process lasted for several hours. Now it is a matter of few minutes."
Deputy General Manager – Alternate Channels, a large Federal Bank in Asia
200+ Banks and Financial Organizations Rely on Us; Here's Why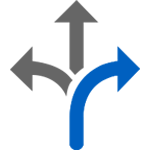 Flexibility
The predefined integrations allows users of these major ERP and CRM platforms to quickly sign, transfer and check the authenticity as well as integrity of documents generated using emSigner on the go. Along the way this integration will help organizations to meet legal compliance and make electronic contracts enforceable.
Speed
Using latest OCR technology, emSigner supports faster loan and mortgage application handling.
Advanced Machine Learning Capabilities
emSigner can leverage latest Machine Learning models to drive decision driven document workflows based on predictive analytics. Examples include assessing the risk of a potential borrower as part of a loan application.
Other Key Highlights
OCR
Run OCR on banking and financial documents such as loan application, paystubs, etc., for auto classification and data extraction.
Remote KYC
Conduct remote KYC based on Digital IDs and Video KYC using advanced face matching technology.
eSignature Support
Support for global eSignatures.
AI Integration
Integration of AI platform (emStream) to power better scoring and assessment of loan eligibility, frauds, defaults, etc., based on Machine Learning models using historical data.
Rule Based Signing
Ability to dynamically route documents to different approving authorities based on rules.
Case Management
Advanced case management capabilities to power back and forth interactions with prospective customers.
Use Cases
Account Opening
Using advanced electronic signing and workflow management capabilities, emSigner allows financial organizations quickly automate and streamline online account opening process.
Digital Lending
From auto loans to student loans to home mortgages, emSigner allows financial organizations to seamlessly execute loan agreements digitally and quickly meet customer demands.
e-Statements
emSigner allows financial organizations to digitally sign invoices and statements in serial, parallel or bulk from anywhere, through any device instantly, thus enabling complete digital transformation.
Contract Management
Create, review, edit, sign and approve contracts with up to 80% quicker turnaround time using emSigner.
Fraud Detection/Advanced Warning
Leveraging advanced AI powered analytics and API integration, emSigner allows banks and financial organizations to run quick backlist checks against user profiles and prevent loan frauds, mortgage defaults, etc.
The Real-life Examples
Capital Alliance Goes Digital using emSigner
Capital Alliance implements emSigner for swift customer on boarding and reduces carbon footprint.
Driving Digital Transformation
emSigner helps reduce cost, increase convenience and improve customer experience for a large Life Insurer.
Simplifying Signing and Encryption of Financial Documents
emSigner supports deployment of an integrated solution to digitally sign and encrypt documents that are legally binding and guarantee authenticity, integrity and confidentiality of data.